All good things must come to an end.
For everyone wondering, we will be doing closing ceremonies around 3pm Sunday afternoon.
Dr. EMF FTW!
Congratz to Dr. EMF (on the right) on your superior agility and skill!  Enjoy your nVidia GeForce GTX 960.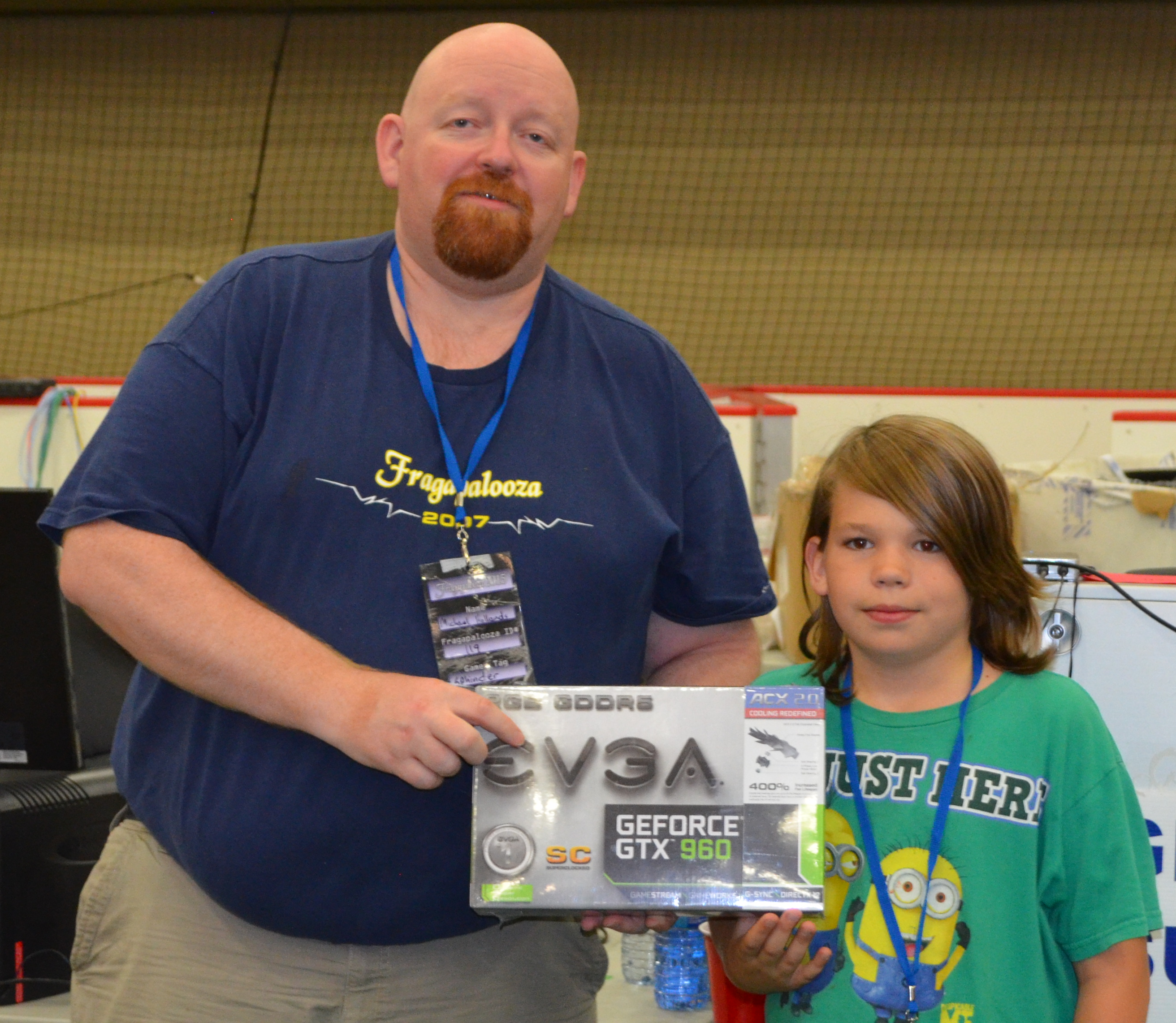 SuperSmash bros will start at 4:30pm,  BF4 will start at 6pm
http://fragapalooza.challonge.com/sc2
Feed the hungry??  Ok!!
We are going to have 2 more food trucks join us again today...They will be here from 5-8pm.
Hot Mess Food Truck will be back again, but I don't have an updated menu yet.  Stay tuned!
We also will have a new-comer...Calle Mexico Food Truck.  Here is what they have on the menu:
TACOS 

All tacos come with cilantro and onions, pork tacos come with pineapple and Asada come with Pico de Gallo

Beef Barbacoa - Slow roasted beef with spices
Pork (Al Pastor) - Roasted pork marinated with chilies and pineapple
Steak (Ssada) - Marinated sirloin topped with Pico De Gallo Salsa
Chicken (Tinga) - Chicken Breast marinated in chipotle sauce

Tortas (Mexican Gourmet Subs)

All Tortas come with Beans, Lettuce, Tomatoes, and Avacado

The Famous Calle Mexico Tostadas

Crispy tortillas topped with beans, lettuce, tomatoes, radish, sour cream, feta cheese and avacado

Drinks

can pop
Mexican Jarritos and Sangria
Water
With 300 participants at the event, please be patient when ordering from our Food Trucks...I guarantee the wait will be worth it!
My Name Is Jeff FTW!
Congratz to My Name Is Jeff (on the left) on your display of physical ability, and enjoy your HD + Steam Game prizes!  Hopefully you don't hurt too much after that contest!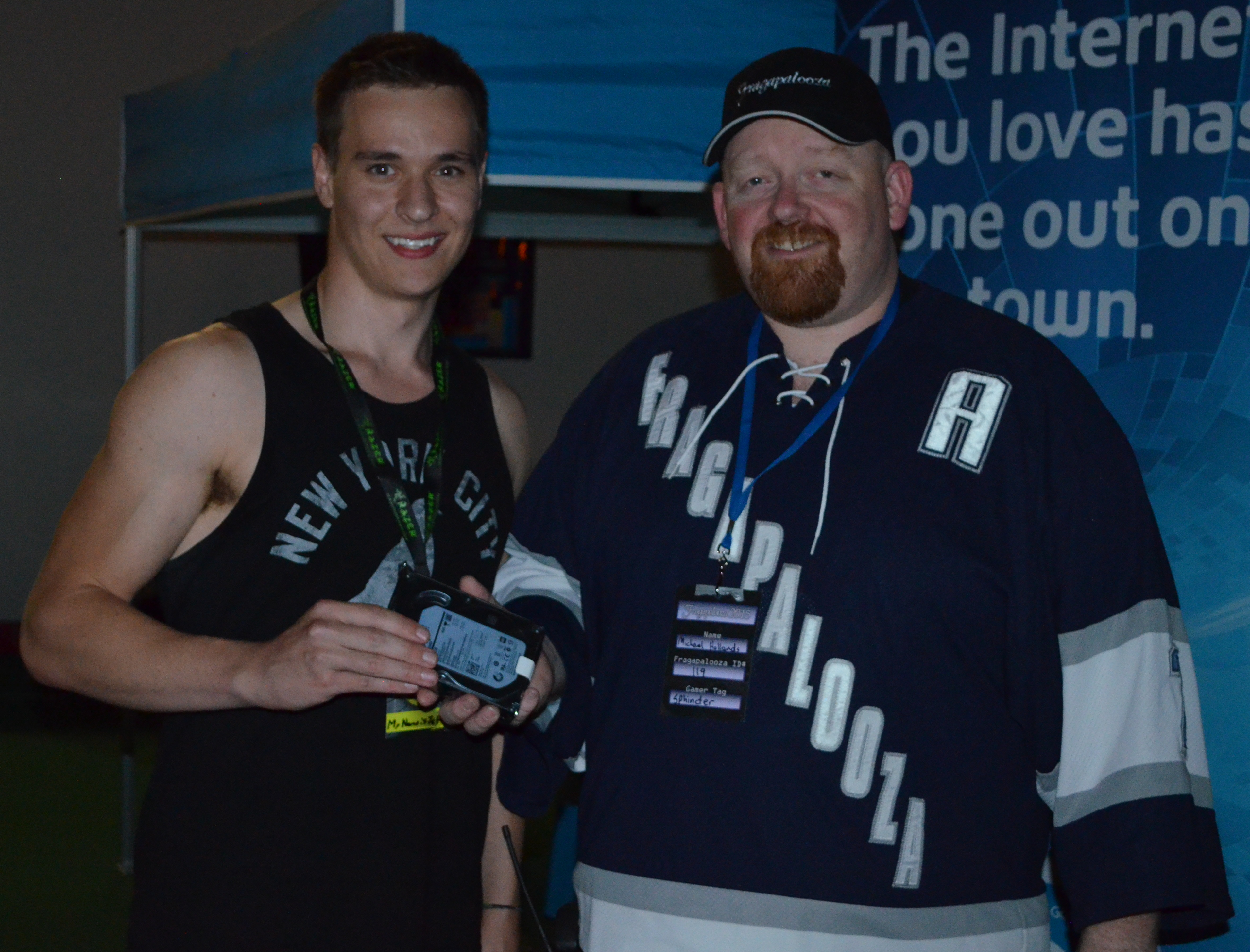 With our Counter-Strike: Global Offensive tournament already running, we will be switching over to our Left4Dead2 tournament at 6:00PM.  Once L4D2 has run its course we will return back to CS:GO for the remainder of the night.
We will be starting Saturday with Starcraft 2 at noon, followed by Battlefield 4 and Smash Brothers that Evening.
Rocket League will be starting today at 4:00 PM.  If you have not signed up as a team of 3, please come up to the Tournament side of the head table to do so!
EDIT: This schedule may fluctuate slightly as we run late and have to make adjustments to the timeline.
Rocket League Brackets can be found here
Left4Dead2 Brackets here
GO HERE!  http://fragapalooza.challonge.com/csgo_2015
Round1 will be played on DE_DUST2
We got
SSS vs Laz08
Super Salty vs DoIT
Yeg Bros vs AiSS
Here is the Map list for the Tournament
Round1 DE_DUST2
Round2 DE_Inferno
Round3 DE_Cache
Loser Round1 DE_mirage
Loser Round2 DE_Cobble
Loser Round3 DE_Dust2
Loser Round4 and 5, and Semi and Final are all Best of 3, and will use the Veto format to do map selection.
What the truck???
Not quite as many trucks as the What The Truck festival, but we are please to announce another food truck will be providing food service tonight.  
Beginning at about 5pm the Hot Mess Food Truck will be providing a special menu to Fragapalooza participants.
Jerk pork tacos with mango pineapple salsa.      $10
Chorizo potato Taco with salsa verde and pico de gallo. (Mushrooms onions cactus).     $10
Bacon cheese dogs.   $6
Moroccan Quinoa salad (GF VEG) $8
Fresh cut fries.     $5
Deep fried dill pickles.     $6
Assorted homemade cookies   $1
Pop drinks bags of chips
With 300 participants at the event, please be patient when ordering from our Food Trucks...I guarantee the wait will be worth it!
Okay so if you want to play in any of the tournaments please come see Bram or Commo at the Head Table (we are on the corner closest to the main entrance).
Tournaments will start tomorrow at afternoon.  CS GO will start at noon,  BF4, SC2 and L4D2 will start after that.  Supersmash will be on Sat Afternoonish. 
Tournaments are
CounterStrike GO 5v5
Supersmash Bros 4v4
Left 4 Dead 2 4v4
Starcraft 2 1v1
Battlefield 4 4v4
If you don't have a team and you want to play come up and sign up as a single and we will find you a team.