I wanna go and I wanna go now!
Fragapalooza 2016 Registration @ 2015 Event Month Pricing Available for the Month of August.  If you want to join us next year but pay this year's pricing you can register and pay during the Month of August 2015 for Fragapalooza 2016.  After that date the pricing is subject to increase based on projected costs for next year - but we will be running an Early Bird paid pricing option for 2016 in the future.
See you in 2016 and stay tuned to our social media and this website for things to come!
For those of use of an artistic bent, feats of strength, stamina or engineering are not our forte, so we must find a way to shine in our own way.  We will be running an art contest!
We need a new background for our website that encapulates the theme or energy of Fragapalooza.  Our colors are Green (#afdf34) and Orange (#d9760d)
The rules are thusly:
1) Digital images only
2) Keep it civil, clean and fun
3) Recommended 1600x1200 image resolution or larger
4) Our primary website colors are various shades of black (and sometimes very, very dark grey), Green (#afdf34) and Orange (#d9760d)
5) Staff will judge the first round of submissions
6) Finals winner will be selected by the crowd during closing ceremonies
If we have a decent number of submissions, or the winning piece is of a sufficient quality the prize will be a 24" monitor.  Otherwise a suitable substitute will be selected.
We look forward to your beautiful artistry!
PilotCX7 FTW!
Congratz to PilotCX7 (on the right) with your master engineering skills! And also enjoy that HD Prize!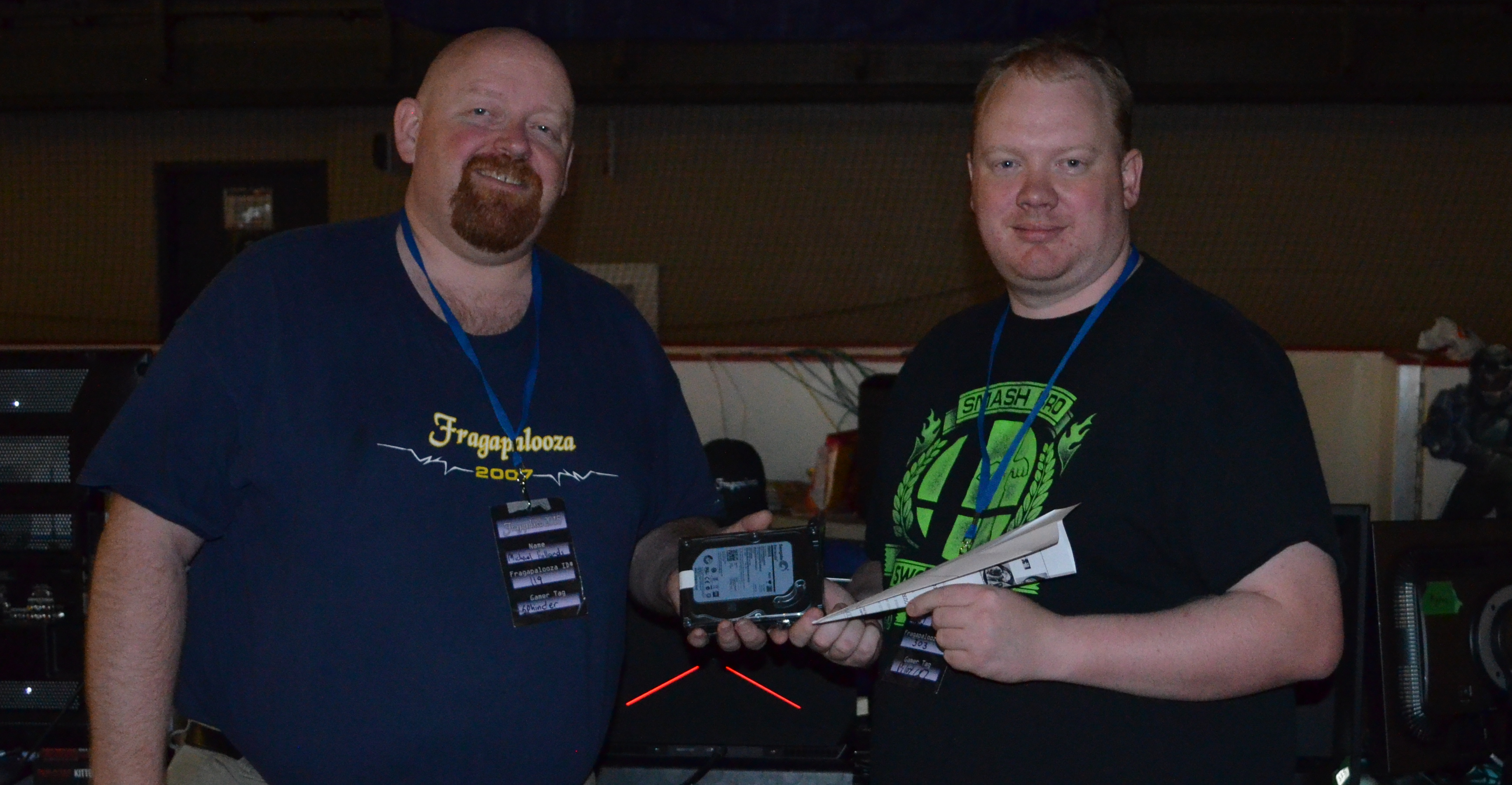 We are going to do a paper airplane contest at  11:30.  This will be an accuracy contest.  So start practicing now.  I got extra paper up here by the tournament guys. 
Basic rules apply, no foreign objects in your plane, this include spit and water!  A crumpled up ball is not an airplane.  Quadcopters don't count(Bram).
Write your ID on your plane!!!!!!!!!!!!!!!!!!!
All good things must come to an end.
For everyone wondering, we will be doing closing ceremonies around 3pm Sunday afternoon.
Dr. EMF FTW!
Congratz to Dr. EMF (on the right) on your superior agility and skill!  Enjoy your nVidia GeForce GTX 960.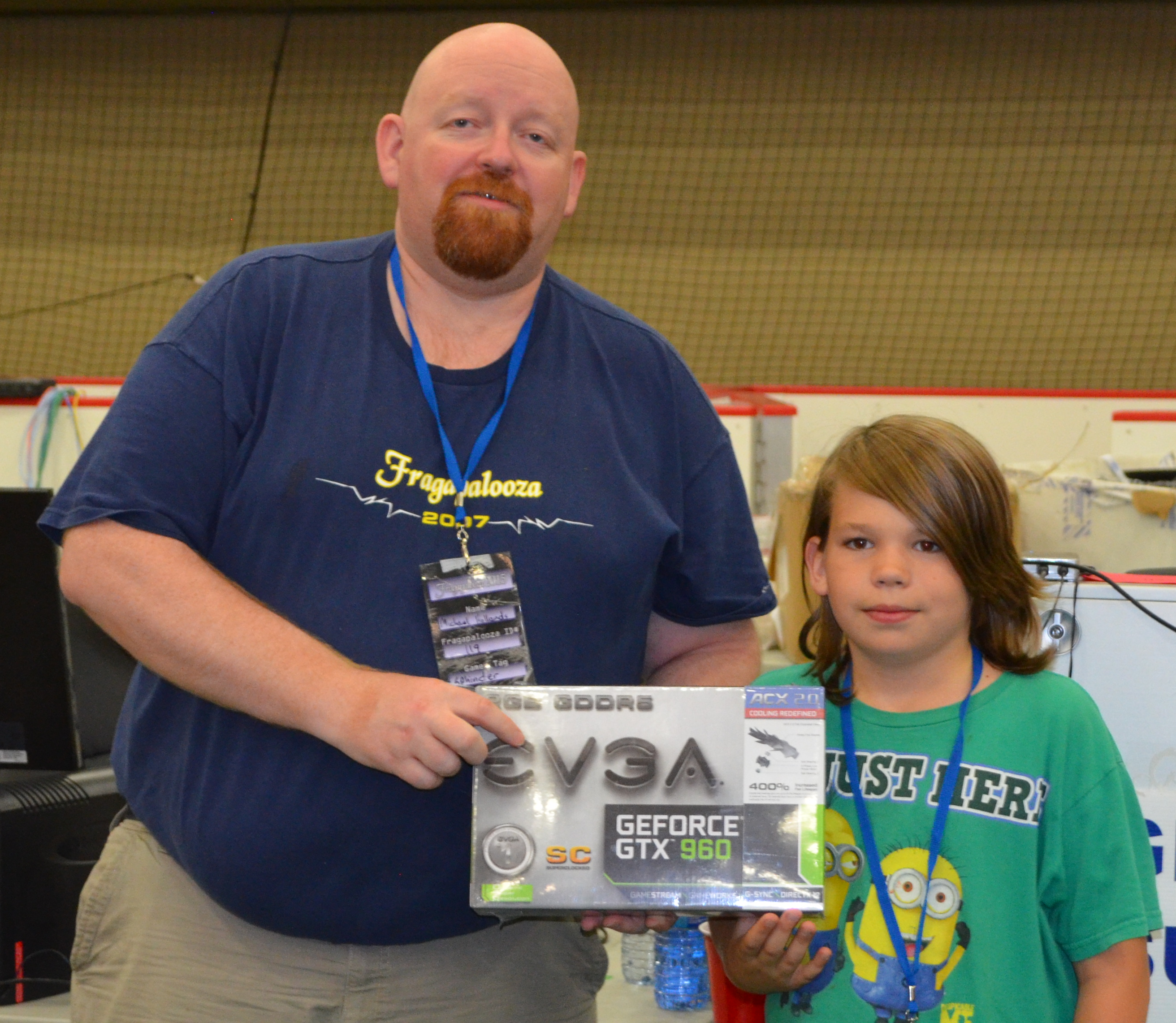 SuperSmash bros will start at 4:30pm,  BF4 will start at 6pm
http://fragapalooza.challonge.com/sc2
Feed the hungry??  Ok!!
We are going to have 2 more food trucks join us again today...They will be here from 5-8pm.
Hot Mess Food Truck will be back again, but I don't have an updated menu yet.  Stay tuned!
We also will have a new-comer...Calle Mexico Food Truck.  Here is what they have on the menu:
TACOS 

All tacos come with cilantro and onions, pork tacos come with pineapple and Asada come with Pico de Gallo

Beef Barbacoa - Slow roasted beef with spices
Pork (Al Pastor) - Roasted pork marinated with chilies and pineapple
Steak (Ssada) - Marinated sirloin topped with Pico De Gallo Salsa
Chicken (Tinga) - Chicken Breast marinated in chipotle sauce

Tortas (Mexican Gourmet Subs)

All Tortas come with Beans, Lettuce, Tomatoes, and Avacado

The Famous Calle Mexico Tostadas

Crispy tortillas topped with beans, lettuce, tomatoes, radish, sour cream, feta cheese and avacado

Drinks

can pop
Mexican Jarritos and Sangria
Water
With 300 participants at the event, please be patient when ordering from our Food Trucks...I guarantee the wait will be worth it!