Leduc Recreation Centre
4330 Black Gold Drive
Leduc, AB T9E 3C3
GO HERE!  http://fragapalooza.challonge.com/csgo_2015
Round1 will be played on DE_DUST2
We got
SSS vs Laz08
Super Salty vs DoIT
Yeg Bros vs AiSS
Here is the Map list for the Tournament
Round1 DE_DUST2
Round2 DE_Inferno
Round3 DE_Cache
Loser Round1 DE_mirage
Loser Round2 DE_Cobble
Loser Round3 DE_Dust2
Loser Round4 and 5, and Semi and Final are all Best of 3, and will use the Veto format to do map selection.
What the truck???
Not quite as many trucks as the What The Truck festival, but we are please to announce another food truck will be providing food service tonight.  
Beginning at about 5pm the Hot Mess Food Truck will be providing a special menu to Fragapalooza participants.
Jerk pork tacos with mango pineapple salsa.      $10
Chorizo potato Taco with salsa verde and pico de gallo. (Mushrooms onions cactus).     $10
Bacon cheese dogs.   $6
Moroccan Quinoa salad (GF VEG) $8
Fresh cut fries.     $5
Deep fried dill pickles.     $6
Assorted homemade cookies   $1
Pop drinks bags of chips
With 300 participants at the event, please be patient when ordering from our Food Trucks...I guarantee the wait will be worth it!
Okay so if you want to play in any of the tournaments please come see Bram or Commo at the Head Table (we are on the corner closest to the main entrance).
Tournaments will start tomorrow at afternoon.  CS GO will start at noon,  BF4, SC2 and L4D2 will start after that.  Supersmash will be on Sat Afternoonish. 
Tournaments are
CounterStrike GO 5v5
Supersmash Bros 4v4
Left 4 Dead 2 4v4
Starcraft 2 1v1
Battlefield 4 4v4
If you don't have a team and you want to play come up and sign up as a single and we will find you a team.
FittySix FTW!  XBox One - The Master Chief Collection Edition
Thanks for supporting Fragapalooza 2015 as an Early Bird! By knowing our paid participant base Early supporters help us organize, pre plan and better prepare for the event to come. Keep on supporting us and we'll do our best to make it worth the time!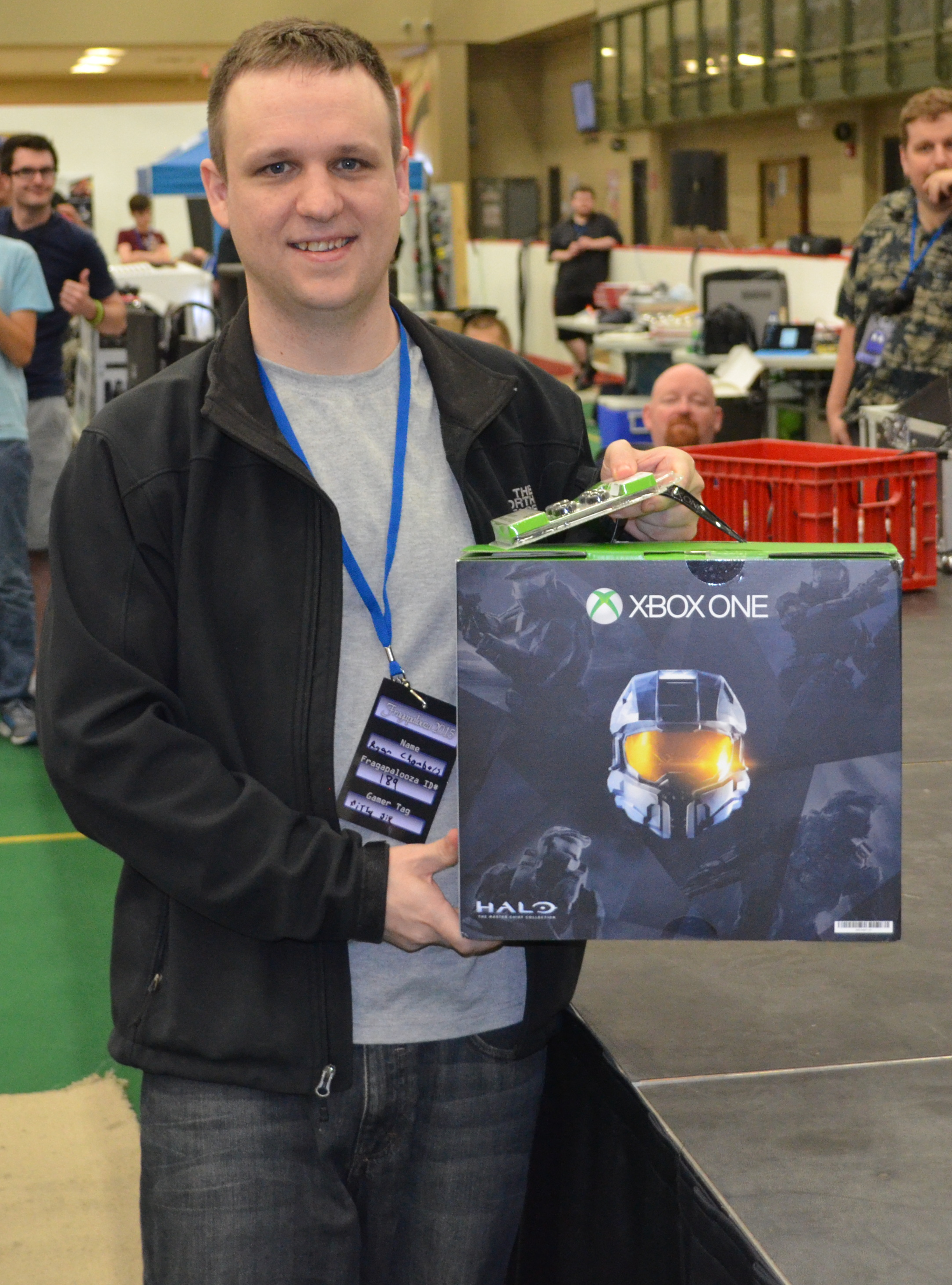 Make sure to be here @ 9:45ish!
Like we do every year we are hosting Opening Ceremonies around 9:45 PM tonight.  Make sure to be here as I think some people might be getting some things... not sure though :P
Your Server, Our Farm is open for business
Come to the head table to see Cova to get it setup on the server farm!
Who doesn't like Pizza!
Papa Johns has joined Fragapalooza 2015 to offer discounts on their orders.  Participants, using the phone number on the coupon in their swag bags, can get a 10% discount on pizza from Papa Johns!  Thanks for sponsoring us this year!
Who doesn't like a Food Truck?
The Hop Food Truck will be stopping by Friday afternoon about 4:30 to feed all you hungry gamers.  They are providing special menu prices for Fragapalooza participants, so please show your Frag ID when placing your order.  They will be staying for a couple of hours, or as long as they are still serving customers, so they should be able to serve everybody!
Here is the menu that they will be offering.
Local Kosmos does it again!
Kosmos is sponsoring Fragapalooza 2015 with some gift cards for prizing, 5% off all non-alcoholic orders (just mention/provide your Fragapalooza 2015 ID Tag), and driver service till mid-night during the event.  Check them out on Facebook!
Here are their menus:
We hope so!
Let us know if it isn't fixed.