Leduc Recreation Centre
4330 Black Gold Drive
Leduc, AB T9E 3C3
City of Leduc helps us out!
The City of Leduc has graciously sponsored this year's Fragapalooza and we would like to recognize them as a great place to hold our Event for the past 5 Years running! Thank you so very much for hosting Fragapalooza 2015 in your great city!
Its getting cramped in here!
Wow!!! Thanks to the overwhelming registrations for Fragapalooza 2015 we have opened up the overflow seating just East of the Stage.  If you wanted to sit closer together now you have some seats opened right up to help out.
REMINDER: Reserved Seating Sections
For those whom have seating sections reserved, those reservations will expire July 24, 2015 and will open up to general seating selection after that.  Please get your seats selected before that time.
Our Tournaments are Set!
With some requested sponsorship our Tournaments for Fragapalooza 2015 are now set.  Check them out at the Tournaments link on the site and look for the Tournament sign-ups at the event in just over two weeks!
BioWare contributes!
BioWare, a Division of EA, is sponsoring Fragapalooza 2015.  Fragapalooza and BioWare have a relationship that stretches many moons and we are so glad to have them sponsor this year's event. The Fragapalooza Staff love their games and are huge fans, as I know most of you must be as well!  And with both institutions being native to the Edmonton area it is only fitting to have them on board!
Metafore joins Fragapalooza 2015
Metafore is sponsoring Fragapalooza 2015, supplying prizing and support for the event!  Welcome and we hope to continue our relationship well into the future!
Metafore designs, deploys and supports IT infrastructure solutions that contribute to improved productivity, operational efficiency, and overall business performance.
Servers, check!  Sponsorship, double-check!
Mainland Information Systems returns this year as a sponsor for Fragapalooza 2015!  They bring with them great knowledge and experience in the IT Systems and Service area and are donating our Servers for the event.  Thanks Mainland for your continued support!
Frag hits K-Days!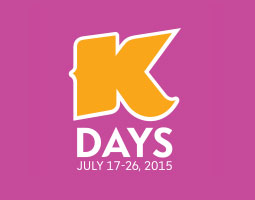 Hey Fragapalooza is at K-Days today and next Saturday (July 25, 2015) with Extra Life in the Techlife area - Hall H!  We're here taking registrations at $5 off so come on down and visit us today to finalize your registrations!  Or just come for a visit, we'd love to see you here!
Setup for sleep just moments away!
The LRC has facilities just North of the venue for anyone looking to camp or pull up your Trailers/RVs to rest your heads for those few moments where the body can't take anymore.  The spots are first come, first serve and garbage facilities are provided (but no other amenities are available).  So if you are looking to camp it out, we've got you covered.
Otherwise Leduc is host to a vast number of Hotels/Motels that are only minutes by cab from the facility.  Check 'em out with your favorite search engine today!
Got to Collect them ALL!
With only days left to purchase Fragapalooza promotionals, we thought we would preview them for you.  So here are the T-Shirt for this year's event and the Mouse Pads you can order!  
DID YOU KNOW you can start a second order if you have finalized your last one with your seat?
DID YOU KNOW you can add items to your cart if you haven't finalized your purchase as of yet?
NOTE: These items expire for purchase July 18, 2015!
T-Shirt for Fragapalooza 2015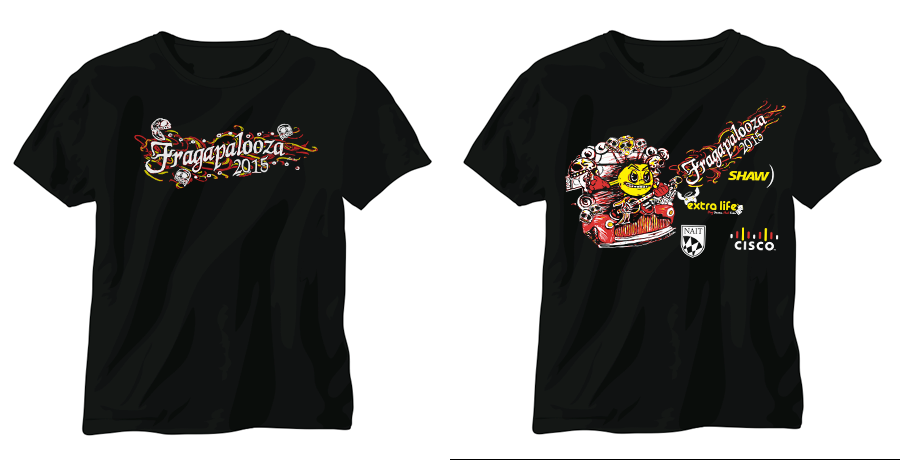 In case you missed previous year's shirts, or if you like a particular one, you can commemorate your memories with these limited edition Fragapalooza mouse pads:
Registration and Waiver Form
This year's Fragapalooza Regisration and Waiver Form are now available for download and fill out.  This must be completed at the door of the event before entry will be allowed.  Anyone 17 years of age or younger will have to have a Parent/Guardian sign for the participant.
You can download the form here.
Plugged In!  Jacked Up!  Ready to go!
Cisco returns for another Fragapalooza to host your blazing fast network for all your Gaming and Event needs!  Cisco has been at networking a long time and has also been working with Fragapalooza for a very long time as well.  We are so very glad to have them return again this year to help us out!