Collector's Edition ID Tags
You may have seen Fragapalooza Staff at our 2017 event wearing custom ID Tags.  You may have even wanted one for yourself.  Well whether you were with us in 2017 or new to our 2018 event, we are offering Collector's Edition ID Tags for your purchase.  These 3D Printed ID Tags are personalized to whatever Gamer Tag you wish (submitted at time of purchase) for yourself and anyone else you want to buy for.  Each purchase comes with a bonus random steam game (while supplies last - valid email address required).  Head over to our Store to order yours today. It will be ready for pickup at our 2018 event!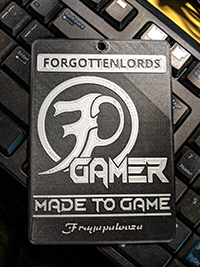 NOTE: Final design maybe slightly different than shown above.
All Gamer Tag's will be printed exactly as entered at time of sale (including how you enter Upper and Lower case characters)
Limited Quantities Available.